My father, Henry Hardaker, took this picture outside the West Door of Holy Trinity Church, Headington Quarry. I had received my surplus after serving my probationary period in the choir. He sang Bass with the 'Men'.

In those days - early 1950's -you had to be able to sing to get into the choir and Mr. Abbott, who was then in his 80's, had passed my voice as acceptable. Mr. Abbott taught me to sight read note intervals as 'the boys' rehearsed the psalm and canticles in the vestry before the service.

With my ability to read music, also I did not mess about, I was promoted through the ranks until I was Head Boy of Decani - which is the South side of the Choir - with John Skyrme leading Cantoris - North side of the Choir.

If you look in old Psalms Books you will see that Decani and Cantori alternated each verse. We never did this but it must have sounded very nice.

I loved singing psalms, and still do. If I am in a church by myself and seated at the organ I will sing a psalm or two for old times sake remembering all the men and boys in that choir, wishing them well wherever they are now.
I regret the singing of psalms in modern English. The rhythm of Psalms is in the words and you must have the pointing with the words. Without the pointing you do not know how to sing them.
The book being held is the New Cathedral Psalter.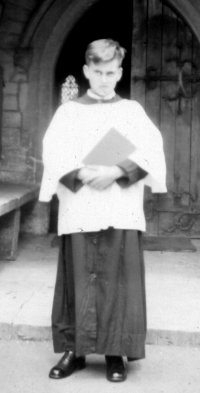 John Hardaker
a fully fledged choir boy.
During this early period of my life my love of, and desire to play, the organ, which may have been inspired by a 78 record my mother had of Reginald Forte playing 'In a Persian Market' and 'In a Monastery Garden', came into reality. I was under four years old when I first heard that music. My mother had found Mr. John Webster in Oxford who offered to teach me to play but requested that I be able to read music and have some playing experience. So, for four years, from the age of ten, I was taught by Miss Hartnell, who was possibly in her late teens or early twenties. At the age of ten everybody seemed so much older. She did not believe in exams but her learning curve was quite steep. It was a quarter hour 'scales and arpeggios', a quarter hour of 'studies' and the last quarter hour 'pieces'. All this for the princely sum of 2 shillings which she increased to half a crown (2/6d); that was in old money. You must bear in mind that 20 pounds a week was considered good money in those days.
Picking up the Clementini Sonatas, which I learnt to play then, I realise how slow they must have seemed to her when played by this little boy who struggled to read every note.

Before my lesson on Saturday mornings there was a girl having her lesson. She had started with Miss Hartnell about the same time as I did and, for some reason, I thought I had to keep up with her. If she was playing something that I did not recognise I started to work; no girl was going to beat me. I even started to work on the next piece in the book in my attempts to keep up.

After four years I had my last piano lesson and moved into Heaven; through the usually locked, wooden door, up the little twisted stone staircase where the joy of my life resided: the console of the Walker Organ in the University Church of St Mary the Virgin, High Street, Oxford. Sometimes John did not come to give me my lesson. As long as I could find the key of the door I did not mind. He said I could play if he was not there so long as I did not play loud, which I never did. If I could not get into the organ loft I disappeared into the crypt where there was a grand piano. He would look for me there if he arrived late.
Miss Hartnell wrote a nice letter to my mother asking that I should not give up playing; she must have thought there was some talent in there somewhere. Don't worry, Dear Miss Hartnell, I will never give up playing; this life would be nothing if I could not play.
The Martin & Coates organ at Headington Quarry became my practice instrument along with the 'post' of playing for the Sunday School Service at 2pm in the afternoon. I sang for the 11am, Matins with the Venite, Te Deum Laudamus, a Psalm then the Benedictus or, once a month, Sung Holy Communion. At 6pm, the Evening Service - Evensong - with the Magnificat, Cantate Domino and Nunc Dimittis plus another psalm. I loved those evening services with the sun shining through the west window and Hillary Garrett smiling at me from the congregation. She came with her parents and I thought she was nice.
Hillary and I got locked in the Church one evening as we were in the vestry having a cuddle - never though of anything else in those days - and the verger came, and thinking the place was empty, locked the door. There was no other way out as none of the doors could be opened from the inside. There was nothing for it but to ring the church bell to get him to come back and open the door. As we came out there was my dad standing in the porch; he must have heard the bell as well as everybody else did in a two mile radius. He did not say anything about it but no doubt smiled to himself and must have wondered what we had been doing to get locked in.

The Headmaster, Mr. F. C. Ley, of the Oxford High School for Boys did not think much of me as I was rather out of place with my scientific, practical mind in a basically academic Grammar School. He sent a messenger up one day to the school hall where I was producing the strains of 'Stars Fell on Alabama' on the grand piano requesting something classical. I had, even more so now, an interest in chord sequences, harmony and progression, although I did not know what it was called then. "Can I do 'O' Level Music, Sir?" I had asked. "Can't run a course just for you, Hardaker" was the reply. Youngsters going to school now with their Music Studios and equipment don't know how lucky they are. All we had was the hall piano and a piano and record player in the music room. An orchestra was started but they could only play in the key of 'G'. Why 'G' I don't know; must have been easy in some way for stringed instruments. I thought I would learn the double bass; looked easy enough. I was requested to attend, with my chalk to mark the fretboard, by a senior boy who was going to teach me but, for some reason, he never came and I never did anything more about it. Maybe he thought I was no good.
Mr. Ley had offered me a fiver, a lot of money in those days, if I would/could play Bach's Toccata and Fugue in D Minor on the organ. I was dying to take him up on it as John Webster had taught me to play it properly - a fact obviously unknown to the Head, but, sadly, there was never any opportunity to take on his bet, hopefully in the presence of the whole school.
It is now a long time since those days and I still try to play the organ. While having been organist at various places I consider my output to be quite inferior to what others can do.
This little chat with you is not so much about me but about the people who helped shape my life and point me in the direction that I went in; especially the music. Thoughts go out to people I have known; who were part of my life when I was young. I know they are not 'dead and gone' but have moved on into that greater life of Spirit. In another way, I supposed, they are dead and gone; dead to this life, now into a much more interesting environment and gone on in the sense of having advanced beyond this level of awareness and who would want to hold them back? Not me for sure. One day I will have the opportunity to catch them up and that will be a joy to look forward to.
Sister of Mercy said in one of the talks "You will remember everybody you have ever met". I look forward, one day, to renewing contact with all those old friends and acquaintances of years gone by.
Most of all to my dad who took the picture: "I love you dad; save me a place in the Choir."